Most med device companies will agree with Tom Petty: the waiting is the hardest part. The time period from FDA submission to clearance or approval can feel like an eternity. But what can companies do to get hospitals and providers excited about their technology before launch?
A device that lacks FDA marketing clearance is considered "investigational," and therefore the company cannot promote, advertise or accept orders for it. The FDA considers such activities to be "commercialization of an unapproved device." The FDA does make some exceptions for trade shows, however, so let us break it down for you.
Devices with Pending 510(k) Submissions
510(k) submissions are used to grant marketing approval for devices that have demonstrated the same effectiveness and safety as another largely equivalent, legally marketed device. Which devices require a 510(k) submission? Any Class I, II or III device to be marketed in the U.S. that:
is intended for human use,
does not require Premarket Approval application (PMA),
is not "exempt from 510(k) requirements of the Federal Food, Drug and Cosmetic Act (FD&C Act)," and
does not "exceed the limitations of exemptions in .9 of the device regulation chapters."
The FDA doesn't allow companies to market devices with pending 510(k) submissions. However, some devices are considered exempt from 501(k) submissions: these devices were legally marketed prior to May 28, 1976 and are termed "pre-amendment" devices. Importantly, to remain exempt from 501(k) submissions, these devices must:
have the same intended use,
not be modified,
not have a published FDA regulation requiring a PMA, and
be owned by the same company that owned the device prior to May 28, 1976.
Additional devices are also exempt from 501(k) submissions; click here to learn more about these special circumstances.
Devices with IDE Approval
If we're talking about an investigational device studied under an approved IDE application, you cannot say that it's safe and effective for investigational use or promote it until after the FDA has approved it for commercial distribution. However, in the guidance "Preparing Notification of Availability of Investigational Medical Devices and for Recruiting Study Subjects" (issued 1985 and revised 1999), the FDA clarified that you can publicize the availability of an investigational device with the purpose of recruiting clinical investigators for clinical trials. See how they did that? Just make sure you announce the device's availability in a medical or scientific publication or at a medical or scientific conference and clearly state that the purpose is only to obtain investigators and not to make the device generally available.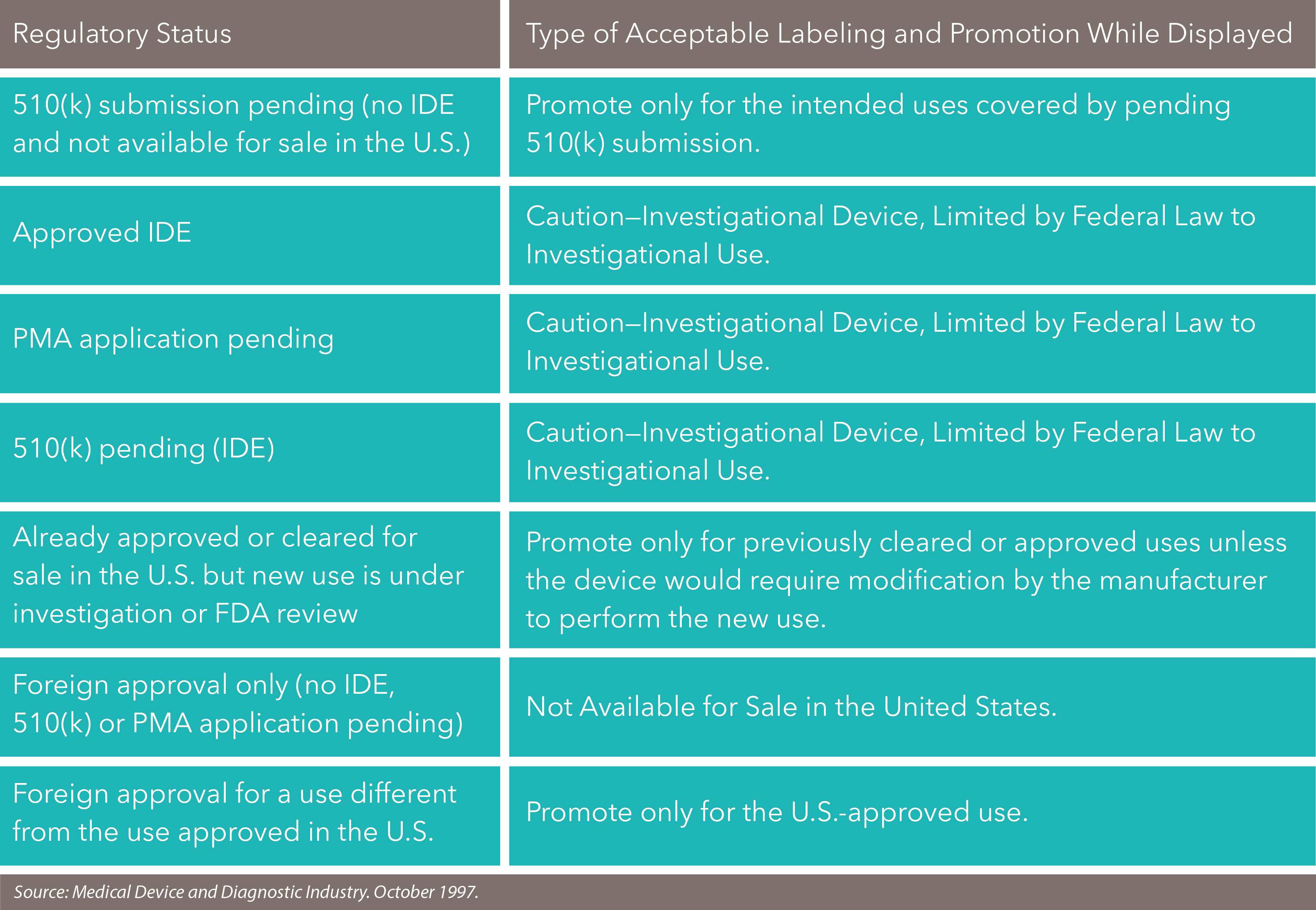 The FDA will frown upon mass mailings to solicit clinical investigators. And enrolling more investigators than necessary to evaluate the safety and effectiveness of the device is also considered bad form. You can't make claims or imply that your investigational product is reliable, durable, safe, or effective for the purposes under investigation. And no one likes a humble brag, especially the FDA, so nix any superiority claims or comparative descriptions.
The FDA generally accepts that products displayed while a PMA application is pending goes beyond investigator recruitment. The safest course is to follow the same guidelines for investigational devices and keep off topics like pricing, POs, and prospects for approval. A company can talk about features and how the device operates.
To cover your bases, you should have a sign (and say during an oral presentation): "Caution: Investigational Device. Limited by Federal (or United States) Law to Investigational Use." Or if it's pending a PMA, say "Pending PMA, not available for sale within the United States.".
Nearly FDA-approved Devices
If your product is almost approved (i.e., subject of an approvable letter from the FDA), the FDA will review whether the company can promote the device on a case-by-case basis. In certain circumstances, a company may be permitted to train physicians on the new device before the official clearance or approval is in hand.
The FDA also has pretty strict rules about coloring within the lines. If a device has received 510(k) clearance or premarket approval, you need to stay within the parameters of its approved uses. The FDA disapproves of you talking or promoting your product for investigational or unapproved new uses. Because the device is already available, the FDA fears that you may be encouraging off-label use, which is a no-no.
While the devil is always in the detail when the FDA is involved, device manufactures that follow these guidelines should remain in the FDA's good graces when displaying an investigational or unapproved device at a trade show.
* This brief outline should not be relied on as legal advice, but as general background to assist in understanding certain FDA promotion and advertising issues.
Need Marketing Help?
Grey Matter Marketing is a full-service, award-winning PR and marketing agency working exclusively with healthcare companies. We deliver the expertise and experience so clients can make better business decisions and see better business results. Contact us and let us help you create more effective outreach strategies during this unprecedented time.